Kim is an Internationally experienced dressage competitor, trainer and coach, with over 30 years experience in the industry.
Having worked and trained in many of Europe's top international dressage facilities and successfully run competition stables in Australia and Germany, Kim Weston is well qualified and possesses a thorough understanding of everything required to produce successful dressage combinations to the highest level of the sport.
From foals to Grand Prix Dressage, Kim has the experience and depth of knowledge required to assist you with your individual training program.  Personalised Strategic Training Programmes can also be prepared to allow you to enter your next competition season with confidence.
Training and Coaching available from Kim Weston Dressage
Dressage Lessons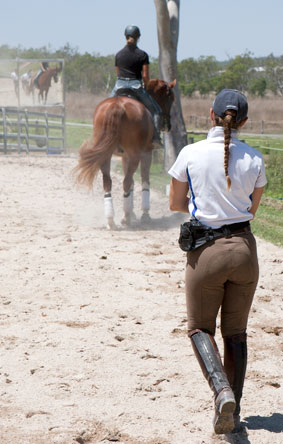 A personalised, 45min private (or shared, maximum 2 riders) lesson targeting your individual requirements.
At Paddy's Green facility, Mareeba, $70.00 per lesson
At your facility (Tablelands area), minimum 4 lessons, $80.00 per lesson
Dressage clinics
1 to 3 day clinics can be arranged at your facilities to cater for larger groups.  Each 45 min private lesson will be tailored to suit each individual's requirements.  A minimum of 8, maximum of 10 riders are required for clinics, $80.00 per lesson per day
Accommodation and travel costs associated with clinics are additional
Dressage Training Camps
Two days at Paddy's Green facility, Mareeba, $70 per lesson
Camping, stable and paddock per night, $15 per horse
Strategic Training Programme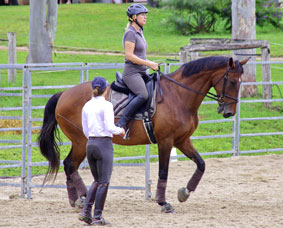 This strategic training programme is designed to encompass all the elements required for a harmonious training relationship between horse and rider.
In a logical step by step system, each months training focus will cover each of these elements.
The objective is to offer riders a clear direction and system with which to train there horses.
"Through clarity of understanding, harmonious relationships are created."
January – Wet season training exercises for horse and rider.
February – Ground work and In-hand training.
March – Back in the saddle gymnastic exercises.
April – Training and understanding the movements.
Strategic Dressage Training
Enter your next competition season with confidence with a strategically planned 6 month training programme.  This programme is designed not just to train the horse and rider, but to also offer support and mentoring through every aspect of what is necessary for a successful season of competition.
Includes;
6 training workshops
A personalised training plan and manual to monitor training progress.
Training support at 2 local competitions.
Contact Kim Weston for current pricing.